COMMUNITY HEALTH NURSING DEPARTMENT (CHN)
Community Health Nursing is the specialty that prepares the students to meet the ever-changing challenges of society. The course orients the students to the concept of positive health and successful living, focuses on the families in the community and population groups with health risks. Students are prepared to acquire clinical competencies and function to promote community development and self-reliance. Weoffer CHN subjects in second- and fourth-year BSc Nursing and as a specialty subject for MSc Nursing students. The Community department organizes household surveys, epidemiological investigations, health projects, health awareness campaigns, exhibitions, health care programs, school health programs, special clinics, health education activities etc. in the village. These activities train the students to effectively interact with the community on health matters.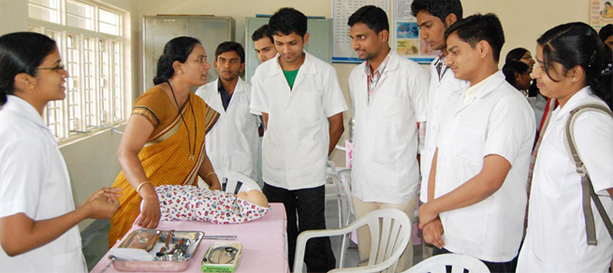 Our CHN lab is properlyequipped (916.53sq. ft.) and well furnished with healthy environment of learning for the under graduates and post graduates so as to provide the basic care in terms of primary health care forthe people. The lab is arranged in such a manner that the student of the nursing programme can practice the procedure to improve the skill and make effective AV aids needed for the public and related to community health concerns. CHN lab is therefore an extension and expansion of the ideal guidelines of community health nursing.